First veto: Bongbong Marcos Rejects The Bulacan Freeport Bill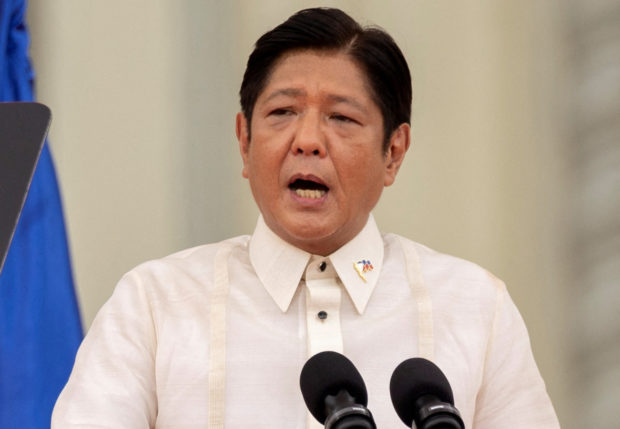 President Ferdinand "Bongbong" Marcos Jr., during the inauguration ceremony at the National Museum in Manila, Philippines, June 30, 2022. REUTERS/Eloisa Lopez/File Photo
President Ferdinand "Bongbong" Marcos Jr. vetoed a bill that would have offered tax breaks to a proposed special economic zone supported by a major campaign contributor.
The unexpected action was one of his first as the nation's new chief executive.
The Bulacan Airport City Special Economic Zone and Freeport would have been developed near to the New Manila International Airport in Bulakan, Bulacan, which is being constructed by the San Miguel Corporation, owned by billionaire Ramon S. Ang.
Ang was apparently unaware of the veto when he was invited to be a guest at the president's inauguration on Thursday.
"At the foreground, fiscal prudence must be exercised particularly when resources are scarce and needs are abundant," Mr. Marcos said on Friday in his veto message to the lawmakers on the enrolled House Bill No. 7575.
"While this administration recognizes the objective of the proposed measure to accelerate economic growth in its locality, I cannot support the bill considering the provisions that pose fiscal risks to the country and its infringement on or conflict with other agencies' mandates and authorities," he said.
One of the country's largest companies, San Miguel, is investing P740 billion to transform a 2,500-hectare property in Bulacan into an aerotropolis with a world-class gateway capable of processing 100 million people per year, as well as an adjacent urban and industrial hub.
Sister's proportions
The bill was introduced in the Senate by Imee Marcos, Marcos' sister. The senator provided no quick response.
The bill would have provided incentives for businesses who invest and establish themselves in the ecozone, the airport, the neighboring airport city, and the adjoining lands.
According to the president, the measure lacked provisions for the seizure of properties awarded to beneficiaries of agricultural reform and offered "blanket powers" to the economic zone authority to manage technical airport operations, which would contravene aeronautics laws.
The proposed ecozone will be located near the Clark Special Economic Zone in Pampanga province, which borders Bulacan, he noted. Marcos stated that this goes against government policy regarding the creation of special economic zones in important locations.
According to Republic Act No. 11534, or the Corporate Recovery and Tax Benefits for Enterprises (CREATE) Act, qualifying businesses outside economic zones may apply for and receive tax incentives.
"Contrary to the government's objective of developing a tax system with low rates and a broad tax base, the enrolled bill will significantly narrow our tax base with its mandated incentives applicable to registered entities," Mr. Marcos said.
The president may have anticipated the prospective movement of enterprises from tax-paying locations to the ecozone in order to take advantage of the tax cuts.
In light of these factors, Marcos stated that he felt "compelled" to veto the bill.